History
Click below to download a copy of our history.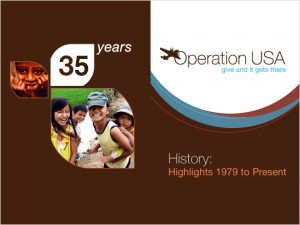 Highlights:
Founded in 1979, Operation USA helps communities alleviate the effects of disasters, disease and endemic poverty by providing privately-funded relief, reconstruction and development aid throughout the world. We offer material and financial assistance to community-based organizations that promote sustainable development, leadership and capacity building, income generating activities, education, health services, and advocacy on behalf of vulnerable people.
In the 35 years since Operation USA was founded, we have delivered over $400 million in aid to more than 100 countries. From the construction of schools in China to the delivery of medical supplies and equipment in Africa to long-term disaster recovery in Haiti and the United States, Operation USA has a rich history of successful programs around the world.
Today, many programs developed throughout Operation USA's history continue to serve communities around the world. Read on to learn more.
2014
On January 13 Richard Walden is honored with the Hometown Heroes Award from Honeywell Hometown Solutions. The award is given to individuals who improve the lives of others and make their hometowns better places to live and work through long-term dedication, compassion, and the desire to do the right work, right now.
2013
On November 8 Typhoon Haiyan, the largest storm ever to make landfall, strikes The Philippines. Operation USA ships disaster relief supplies to meet immediate needs, including water purification supplies which were pre-staged in Manila. Long-term recovery projects will be centered in the hard-hit community of Guiuan.
In May 2013, major tornadoes wreak havoc on Moore, OK and the surrounding areas. Operation USA provided relief supplies including generators, shelter materials and hospital equipment, and makes grants to community organizations to aid in recovery.
In partnership with Honeywell Hometown Solutions, Operation USA opens the Honeywell Ibasho House to serve the Elders of Ofunato affected by the 2011 Japan earthquake and tsunami.
2012
In October 2012, Superstorm Sandy begins its path of devastation across the northeastern United States. Operation USA sends emergency and cleaning supplies to New York and New Jersey, and makes grants to local organizations to aid in long-term recovery.
In August 2012, Hurricane Isaac causes widespread flooding in Louisiana. Operation USA responds with emergency supplies provided to a local social services partner.
Operation USA Operation USA begins construction on the Honeywell Ibasho House, in partnership with Honeywell Hometown Solutions.
2011
Ecole Nationale Jacob Martin Henriquez opens in Jacmel, Haiti. Built in partnership with Honeywell, this primary school (Operation USA's largest project to date) serves hundreds of students who couldn't otherwise afford to go to school, and supports feeding programs, which ensure children receive a healthy meal each day.
Operation USA ships books to Rwanda's first public library in partnership with Boeing and RwandAir.
Millions of people are impacted by a humanitarian crisis in the Horn of Africa as the region faces drought, famine and conflict. Operation USA asseses needs on the ground and focuses on water resource needs in Kenya's Dadaab refugee camp.
In May 2011, a devastating multiple-vortex tornado strikes Joplin, MO and crushes nearly a third of the city. Operation USA sends shelter supplies, clothing, flashlights and radios, then goes on to restore capacity in damaged schools and clinics facing an influx of community members impacted by the storm.
In February 2011, a magnitude 8.8 earthquake hits Chile, followed by a tsunami, affecting over two million people. Operation USA focuses recovery efforts on education services, providing a children's library for a community in transitional homes, and on rebuilding livelihoods, providing local fishermen with tools, boats and engines to resume their economic activities.
2010
In October 2010, Super Typhon Megi hits the Philippines. Operation USA provides ongoing material support to hospital partners.
Summer 2010, massive flooding impacts as many as 20 million people across India. Operation USA focuses recovery efforts on a community-led program to strengthen dykes and berms in the Bangla Ichha Union Council, an acutely vulnerable community in southern Punjab.
On January 12, a magnitude 7.0 earthquake devastates the island nation of Haiti, affecting as many as three million people. Operation USA responds rapidly to the disaster, shipping emergency aid within days of the earthquake. Over $5.5 million in donated medical, energy, food and shelter supplies has been sent to Haiti to date.
Following the recently-ended civil war in Sri Lanka, Operation USA remains committed to projects supporting vulnerable populations in the districts that were heavily impacted by the conflict, with a focus on women and children.
2009
In partnership with Honeywell Hometown Solutions, Operation USA opens a reconstructed school in Chengdu, China. Operation USA also begins a second primary school construction project in Sichuan, while funding five village clinic construction projects near Chongqing.
2008
Following a magnitude 7.9 earthquake in China's Sichuan province, Operation USA begins construction of a primary school with support from Honeywell Hometown Solutions.
Operation USA responds to ongoing humanitarian crisis in Sri Lanka due to intensified fighting from ongoing civil war.
Operation USA continues long-term commitment to Cambodia by supporting new projects, including a livelihood assistance program for persons with disabilities; a counseling center for women and children; and a social and mental health services program.
Operation USA responds to Southern California Wildfires with supplies and grants to local agencies serving fire victims.
2007
In Bangalore, India lack of access to their own latrine causes a drop in school attendance among girls, while lack of access to clean water affects all children in the area. Operation USA works with Honeywell Hometown Solutions to create solutions by implementing latrine installation, creating clean water systems, and incorporating hygiene education—teaching teachers to educate students in hygiene and cleanliness.
Operation USA responds to a major earthquake in Peru, rebuilds four schools outside Ica, Peru and funds a new water system for a village through a local partner NGO.
Operation USA re-funds 23 clinics and school and after-school agencies in the Hurricane Katrina zone of Louisiana and Mississippi, bringing total grants to over $2 million.
Operation USA continues funding post-Tsunami recovery projects in Indonesia, Thailand, Sri Lanka and India.
2006
Operation USA responds to Jogyakarta, Indonesia earthquake with supplies and funding for reconstruction of two clinics and one school.
Operation USA organizes airlift for partner agency and provides $1.8 million in supplies to alleviate widespread casualties and damage caused by war in Lebanon.
2005
Hurricanes Katrina and Rita disaster response efforts include $8 million in 13 truck shipments to the hurricane-affected Gulf Coast states; cash grants to 50 community- based clinics; and funding of mental health programs in local schools.
Operation USA sends emergency relief supplies via 747 cargo jet airlift to Islamabad, Pakistan for earthquake- affected communities. With support from Honeywell, Operation USA repairs a school and a clinic, which supports the needs of amputees following the quake. Operation USA also sets up an ambulance in Kashmir to help transport women in labor more modern hospital facilities in Islamabad.
Village reconstruction in Kalladi, Sri Lanka begins. With support from Honeywell Hometown Solutions, houses, water wells, a school and a clinic are rebuilt, the village's entire fishing fleet of 60 boats is repaired, and necessary fishing equipment is restored.
2004
Indian Ocean Tsunami relief effort begins December 26th and results in $13 million in air and sea shipments and nearly $3.5 million in funding of clinics, housing, water wells, livelihood grants and post-traumatic stress programs in four countries.
Operation USA organizes an airlift and provides funds for clinic construction, a women's health program and assistance to a disabled persons center after an earthquake in Bam, Iran, destroys the city of 80,000 and kills up to 50,000.
2001-03
Micro-credit programs in Vietnam expand to cover 5,000 women in food production and sales.
Peru receives medical supplies and funds to build schools and train teachers to identify and address psychological trauma in children after a major earthquake.
Gujarat, India earthquake generates two 747 cargo airlifts and grants for water, clinic and school projects.
California Community Clinic Support Program expands to 200 nonprofit community clinics statewide.
2000
Operation USA obtains second warehouse space— 5,000 sq. ft.—courtesy of the Port of San Francisco.
Operation USA expands medical assistance programs in Cuba with knowledge exchange visits by Cuban and American physicians to both Havana and Los Angeles.
Operation USA completes a number of new programs in Nicaragua including building over 100 homes, six preschools, and five clinics, establishing a post-traumatic stress counseling program, and developing micro-enterprise projects in animal husbandry, handicrafts, bio-gas and small-scale agriculture.
Operation USA expands community-based healthcare programs in support of Los Angeles-area clinics.
1999
Operation USA expands Nicaragua hurricane recovery and opens full-time country office in Managua.
Earthquake in Turkey kills 10,000, destroys 120,000 houses. OpUSA flies 747 cargo jet with 100 tons of medical relief and makes cash grants to five health projects.
1998
Hand-carried deliveries of antibiotics and needs assessment visits to three Cuban pediatric hospitals initiate Operation USA's Cuba medical assistance program.
Operation USA initiates major programs in Central America to aid survivors of Hurricane Mitch in Honduras and Nicaragua, and begins work in the village of Santa Rosa, Nicaragua.
1997
As a member of the International Campaign to Ban Landmines, Operation USA shares the 1997 Nobel Peace Prize, and participates in the "Ottawa Process: an International Treaty to Ban Landmines".
1996
Operation USA launches landmine technology program "Operation Landmine" with NASA and two U.S. national laboratories to help rid the world of 100-120 million anti-personnel landmines.
Operation USA represents 160 U.S. NGOs through InterAction at United Nations and other conferences.
1995
Operation USA expands Clinic Emergency Preparedness Training (CEPT) program with thirty-five L.A.-area community medical clinics— including individualized training and non-structural hazard mitigation.
Operation USA expands Vietnam agricultural, public health and medical training programs into two additional districts of Dong Nai Province. Microfinance initiative provides capital for first of what will be 5000 small loans to women in Dong Nai.
1994
Operation USA responds to Northridge (L.A.) earthquake with food, baby formula, antibiotics, clothes, tents & blankets and other relief items, and is asked by the Mayor of Los Angeles to screen medical supply donations offered to the city.
Operation USA sends four medical supply shipments by air and sea; and funds the rebuilding of a health center in war-ravaged Kibungo Prefecture, Rwanda.
1993
Operation USA joins with country music stars Clint Black and Wynonna in "Operation Heartland" to assist Midwestern U.S. flood relief and recovery efforts in five states. Grants are made to twenty-five community groups.
1992
Operation USA sends medical aid to crises in Somalia, Croatia, Bosnia-Herzegovina (war) and Romania (orphans with HIV/AIDS).
1991
Operation USA responds to a succession of major disasters in Bangladesh (cyclone), Costa Rica, Peru (earthquakes) and The Philippines (cyclone, flooding, volcanic eruption).
Operation USA begins a disaster preparedness training program for community clinics in California.
1990
Operation USA ships relief to victims of the first Persian Gulf War, including Kurdish and Iraqi children.
1989
The Loma Prieta earthquake in San Francisco elicits Operation USA's first major domestic disaster response. Electric generators, food, bottled water, medicines and diesel fuel are sent to support relief efforts with a focus on community clinics.
1988
Operation California becomes "Operation USA" to reflect the growth in scope of our programs.
1986
Operation USA works in Tibet on public health programs.
Operation USA is one of the earliest NGOs invited to work in China.
1985
Operation California responds to Mexico City earthquake with seven airlifts of medicines and shelter materials; helps build a permanent clinic for relocated quake victims as part of an integrated community development project.
Operation California assists USA for Africa with grants management of $17 million in "We Are the World" emergency funds for eight African countries, and coordinates second Boeing 747 airlift to Ethiopia and Sudan.
1984
In a major relief effort for the Ethiopian and Sudanese famines, Operation California, flying the first Boeing 747 cargo jet ever to land at Addis Ababa's airport, delivers 120 tons of critical medical aid.
Operation California becomes a founding board member of InterAction, a consortium of (now) 160 relief and development agencies.
1983
Operation California rebuilds the National Dental School in Phnom Penh, Cambodia sending dental equipment and technicians.
Operation California wins President's Volunteer Action Award at White House ceremony.
Operation California begins long-term ongoing support of community-based free medical clinics in Los Angeles.
1982
Operation California flies supplies to Poland, the first Western group to return there since the authorities declared martial law in an attempt to crush the Solidarity labor union.
First relief flight to Beirut after the Israeli invasion of Lebanon and the disintegration of the Lebanese Government.
1981
Operation California arranges air and sea shipments to Somalia in support of United Nations programs aiding 1.5 million refugees from the Ethiopia-Somalia war.
First relief flight to Honduras to aid refugees from El Salvador's civil war.
1980
Julie Andrews joins our first Board of Directors and hosts CBS television special, "Because We Care", one of many fundraising events she has done for Operation California/Operation USA.
Using 'private diplomacy', Operation California helps negotiate Vietnam-US "Orderly Departure Program."
1979
First relief flight to aid Vietnamese "Boat People" in Malaysia is sent just twenty- nine days after Operation California is founded.
On Thanksgiving Day, Operation California flies the first international relief airlift to Cambodia since 1975 to deliver famine relief.