Haiti Earthquake Recovery – 5 Years Later
Five years ago today, on January 12, 2010, a magnitude 7.0 earthquake struck Haiti, affecting as many as three million people. Upwards of 230,000 people were killed in the earthquake, and more than one million people were left homeless in the aftermath.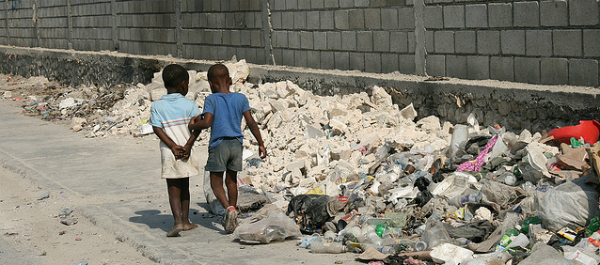 Operation USA–already working in the country since 2008–responded quickly, sending relief shipments by both air and sea, and also made a long-term commitment to recovery efforts in the country.

In support of longtime partner Fondation L'Athletique d'Haiti, which transformed its soccer fields to house more than 500 families, OpUSA made emergency grants for food and supplies. In the hard-hit city of Jacmel, where an estimated 70% of buildings were damaged or destroyed, OpUSA focused recovery efforts–and, in partnership with Honeywell, initiated our largest project to date with the reconstruction of the public school, Ecole Nationale Jacob Martin Henriquez. During OpUSA's recovery efforts, over $5.5 million in donated medical, energy, food and shelter supplies were sent to Haiti–getting essential aid, as well as medical personnel, to partner organizations on the ground in Port-au-Prince and Jacmel.

Ecole Nationale JM Henriquez, which opened in October 2011, was one of the first large-scale recovery projects to be completed in the area. Covering 1.5 acres, the campus includes nine buildings, 15 classrooms, a library, a computer lab, a cafeteria, a garden, a basketball court and a soccer field. The construction project also created hundreds of jobs, and allowed for the professional skills training of several dozen people in in seismically sound construction methods.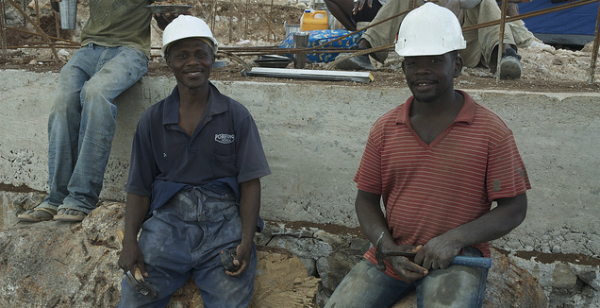 Today, Ecole Nationale JM Henriquez serves over 900 students–many of which receive a hot meal every day. OpUSA continues to support ongoing programs at the school and has a close relationship with the community of Jacmel, where we've maintained a bond for the past five years.

Though five years have passed since the life-changing events of January 12, 2010, the people of Haiti continue to struggle on the path to recovery. The country is one of the poorest in the world, and was vulnerable even before the earthquake caused massive devastation and exacerbated already weak infrastructure and challenging conditions. In Haiti, unemployment and poverty are extremely high, with more than 78% of the population living on less than $2 per day.* Life expectancy is short, with many children and their mothers dying in childbirth, and 1 in 5 children suffering from malnourishment.* More than 37% of the population in Haiti cannot read or write, and only 50% of school age children are enrolled in school programs.* Access to food and water, educational and employment opportunities, and access to basic medical care are struggles that the people of Haiti face every single day. Although the situation in Haiti has faded from the public eye over the past five years, it remains more important than ever to support the country with ongoing relief and recovery programs–and Operation USA remains committed to this effort.

Currently, Operation USA's work in Haiti centers on education and children's nutrition, which research has linked directly to literacy and capacity for learning. In 2014, we maintained the feeding program at Ecole Nationale JM Henriquez, providing a daily hot meal to more than 600 students who might not otherwise have access to food. We also continued our partnership with Fondation L'Athletique d'Haiti, whose sports, nutrition and educational programs serve children in some of Haiti's most poverty-stricken neighborhoods.

In the year ahead, we hope to provide even more support to the school and the community of Jacmel, and are in the early planning and fundraising stages for potential projects including: launching a gardening program to bolster the school's feeding program and teach children a sustainable skill; providing additional educational supplies, sporting equipment and uniforms; and continuing to maintain the school's facilities. With your support, we can do so much more to help the much-deserving community of Jacmel, and we look forward to furthering our work in the country in the months and years ahead.
Click HERE to make a donation in support of Haiti programs and join us as we recommit to recovery in the country upon the five year anniversary of the 2010 earthquake.
To learn more about sponsoring shipments or projects, bulk in-kind donations of supplies, or getting involved with our work in Haiti, email info@opusa.org.
To see more photos from our work in Haiti, click here.
*http://haitipartners.org/about-us/haiti-statistics/