Maternal and Child Health in Sierra Leone
January 7, 2014 — At Operation USA, of all the projects and programs we facilitate and participate in, the delivery of in-kind product donations to areas where they are needed most is one of the most rewarding. We are fortunate to work with partners here in the United States who provide vital materials and supplies. Through the support of our many donors we are able to deliver those materials around the world.
In 2013, Operation USA delivered a major shipment of medical supplies and equipment to Sierra Leone. Wellbody Alliance, an American nonprofit partner there, was excited to receive materials to aid in maternal and child health care and quickly mobilized to distribute some of the items across the country.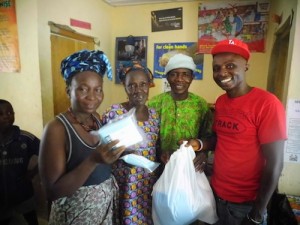 Upon receipt of two Operation USA 40-foot containers, Wellbody Alliance set out to design a distribution and tracking system for birthing kits. Working with staff and transport officers, they compiled a list of all the public clinics in Kono District, a region of 400,000 people in eastern Sierra Leone. Using population data that showed how many people were served by each clinic, they were able to determine how many kits should go to each clinic to ensure that high-need areas received more materials.
From there, Wellbody Alliance staff distributed kits directly by traveling to 12 remote government health clinics. Additional kits were distributed at a meeting convening representatives from all 85 remote health clinics for transport back to the remaining locations.
In August 2013, following the delivery of materials to area clinics, Wellbody Alliance representative Shirley Gao was invited to speak on local radio. Since then, expectant parents have traveled to clinics to receive the materials, which they are expected to bring with them when giving birth at a government-run hospital. Access to clean birthing supplies allows for a healthier labor experience for both mother and child.
Operation USA is proud to be a part of programs such as this birthing kit distribution system, which was complemented by our shipment of incubators, baby warmers and other equipment to set up Sierra Leone's first maternal and child health care unit. It is projects like these that truly embody our motto "Give and It Gets There!"