The Devastating Impact of Man-Made Disasters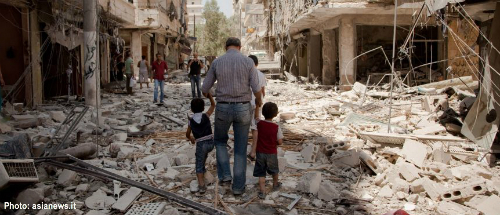 November 17, 2015 –When you think about "disaster relief" around the world, what comes to mind?
Often, when we think about disaster relief, we think about damage and destruction brought on by natural events such as earthquakes, tornadoes, wildfires, hurricanes, typhoons and floods. We think about disease epidemics in countries already weakened by broken health care systems, or pervasive poverty and food insecurity in communities lacking the resources and resiliency needed to bounce back from severe acts of nature. When we think about disaster relief, we most often think about the unpredictable results of uncontrollable and unpreventable occurrences. But, if the tragic attacks in Beirut and Paris last week remind us of anything, it is that man-made disasters can be as devastating as, if not worse than, natural disasters—and we (the global community) need to do a better job of helping those who experience them.
Since 1979, Operation USA has worked in 100 countries. While our more recent relief and recovery efforts (like those of so many other disaster relief groups) tend to center on natural disasters, we've also worked since our earliest days in many areas where violence, warfare and endemic poverty have taken a toll. In 1979, Operation USA (then Operation California) was one of the first aid groups to enter Cambodia after the fall of the Khmer Rouge, delivering famine relief. From there, we went on to aid communities ravaged by war in Honduras, Lebanon, Somalia, Croatia, Bosnia, Nicaragua, West Darfur, Rwanda and Sri Lanka. We supported relocation efforts for thousands of Vietnamese refugees, and aided relief efforts for many more refugees from Ethiopia, the Sudan, Kenya, Kuwait and Iraq. Throughout our 36+ years, we've helped tens of thousands of people who were made vulnerable by man-made disasters, and we've witnessed first hand how devastating the mental, emotional and psychological effects of those tragic events can be, especially on children and families.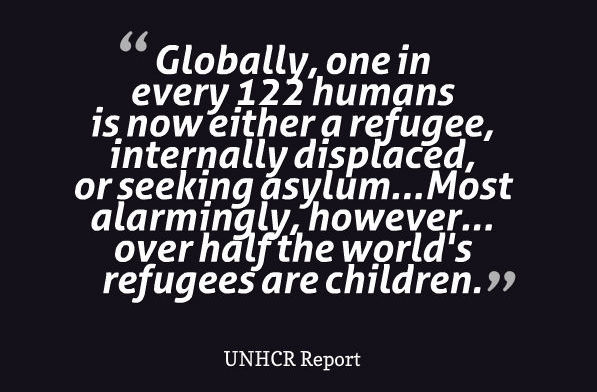 Today, in a time of so many unprecedented crises, we are faced with overwhelming humanitarian needs around the world. As the world reacts to bombings in Lebanon and violent attacks in France, millions of refugees from Syria, Iraq and Libya continue to make the difficult journey to neighboring countries and on to Europe. In Myanmar, the Rohingya community is being decimated by ethnic violence, and in Afghanistan and Pakistan, communities devastated by natural disasters struggle to recover as international aid is withheld due to ongoing violence. Right now, millions of people worldwide are fighting to survive in the face of pervasive obstacles, many of whom will go on to face a life-long struggle with mental and emotional challenges. Too often, they'll face those struggles alone, without access to the mental health treatment and recovery support they need to thrive. Further, many families will experience an ongoing cycle of psychological trauma that will be passed down through generations. All this is brought on by mankind, and is in so many ways preventable and/or treatable, if only the global community could rise to the challenge.
In light of all that is going on in the world today, Operation USA would like to take a moment to reaffirm our commitment to aiding victims of ALL kinds of disasters. In so many war-ravaged and broken communities, families are too often subjected to an unending cycle of violence, emotional trauma and forcible displacement. We believe that together we have the power to rise up and face these challenges head on. With your support, the millions of people around the world who are facing seemingly insurmountable hurdles will be one step closer to recovery, resiliency and the opportunity to thrive mentally, physically and emotionally. Will you join in?
HOW TO HELP:
Donate to locally-based NGOs. Seek out the community-based organizations working directly in the areas you want to support. Often, larger groups get bogged down with governmental red tape, middle-men vendors and logistical bottlenecks. Invest your dollars in small, agile organizations to ensure the greatest (and fastest) impact. Operation USA is proud to work with community-based partners all over the globe.
Raise your voice to create awareness. Read the news, talk to people and disseminate information across your networks to get more people talking about global crises and the people/groups who are helping. Social media has become a powerful tool for shining a light on the causes that are important to us, and the more we talk about what is going on, the more people will become invested in supporting the causes that matter to us. (Operation USA is on Facebook, Twitter, and Instagram–join us!)
Invest in Operation USA. With our experience, there's no limit to what we can accomplish in the future… but, we can't do it without unrestricted funds and supporters who are engaged in our causes. Find out more about our current programs here on our website, or send us a note and let us know what you want to see us doing at info@opusa.org. Give once or sign up for an automatic monthly donation—every dollar counts. Donate here, or click on the "How to Help" tab to find out about other ways you can get involved, like donating air miles or starting your own fundraiser.
Don't wait! Today's solutions start with you. "Start where you are. Do what you can. Use what you have." -Arthur Ashe … It may feel like there is little you can do to combat the immense suffering taking place around the world, but many individuals doing the little that they can adds up to a lot. Whether you donate money, become an online activist, step up as a community leader, work for a nonprofit, volunteer in communities affected by violence and war or play some other role, everyone is capable of making a meaningful impact on the world at large–including you!