Disaster Relief in the COVID-19 Pandemic
Dear Friends,
In most cases, when we alert you to a crisis somewhere in the world, we provide you with all the heartbreaking details of the emergency and how we hope to play a modest role in alleviating the needs of the afflicted. In the case of the global COVID-19 crisis, we're sure that you are already aware of the pandemic and its effects on the entire world. Though response efforts are broad and challenging, OpUSA is committed to providing as much relief aid as possible in as many places as we are able. We can't do this work without you.
Since February, when COVID-19 first emerged, we have worked diligently to gather and distribute Personal Protective Equipment (PPE) and to make modest cash grants to frontline organizations helping those most in need. To date, OpUSA has delivered hundreds of thousands of gloves, masks, face shields and gowns, as well as bottled water, cleaning supplies and hundreds of gallons of hand sanitizer to medical and community partners in the greater Los Angeles area. We have also distributed cash grants to community-based partners in New Orleans, Los Angeles and on the Pine Ridge Reservation in South Dakota. In July, we disbursed $100,000 in funds generously donated by corporate partners to community-based organizations supporting vulnerable population groups including low income and food insecure families–particularly in hard hit Black and Latinx communities–in Austin, Chicago, Detroit, Los Angeles, Miami, Nashville, New Orleans and New York.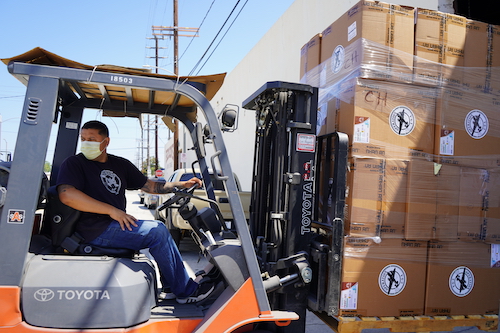 As I write this, we have just received a series of air and sea shipments of 2.5 million donated masks and other PPE supplies from Vietnam, a country we first helped with medical aid back in 1979—the year (and indeed the reason) of our founding. These generously donated supplies from Vietnamese companies are now being distributed on the front lines in Los Angeles and New York, and will also support Native American reservations in South Dakota and Arizona as well as community-based partners working elsewhere in California, at the Mexican border, and in vulnerable communities across the U.S.
Everything Operation USA does is made possible by the generous support of donors like you. We are so grateful for all the support we've so far received during the pandemic. Your donations at this time are especially meaningful as we know that any major disaster that occurs in the months ahead will exacerbate conditions, increase needs and create new challenges for people who are already vulnerable—as we're now witnessing in Beirut. As we monitor the season's hurricanes and storms, and assess needs in all disaster-impacted communities—all while continuing to respond to the COVID-19 crisis—we need your support now more than ever.
We know times are tough right now, and we hope that you are staying safe and healthy in the midst of all this chaos. If you are able, we hope you'll consider an extraordinary donation to Operation USA at this time to ensure that we are able to respond to more people in more places with more relief aid throughout the pandemic and in the face of new disasters in the months to come.
I invite you to visit us online at OpUSA.org to learn more about ongoing relief and recovery efforts and to see how your donations make a difference.
Thank you so much, and stay safe!
Sincerely,

Richard Walden
President & CEO