Holiday Giving 2021
There are many ways to support Operation USA this holiday season!
Thank you for helping to make the holidays merry and bright for those most in need.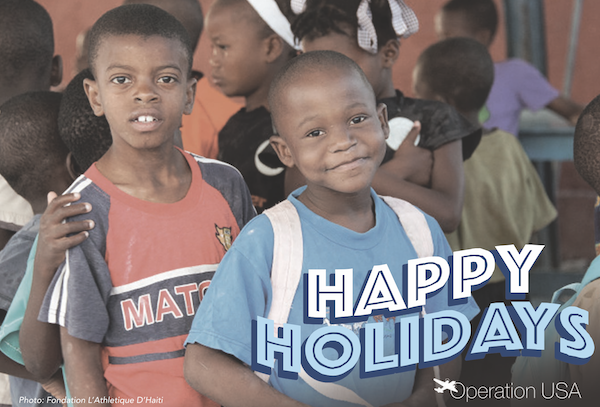 SEND HOLIDAY CARDS
Let us mail your holiday greetings for you! With a donation of $15 or more per card, we'll send a special holiday card to each of your intended recipients letting them know you donated to OpUSA in their honor this holiday season, improving lives and livelihoods. Visit our
donation page
to order now, just select "Holiday Cards" in the drop down menu and include your recipient's info in the comment box or by email to info@opusa.org.
ORDER CARDS NOW
GIVE A GIFT IN SOMEONE'S HONOR OR MEMORY
Give a gift that makes a difference when you donate in someone's honor or memory this holiday season! Just donate
online here
and select "dedicate my donation" at checkout and choose one of our special holiday e-cards to notify your loved one. Our e-cards also make great last minute gifts with instant delivery!
DONATE IN A LOVED ONE'S HONOR NOW
RESOLVE TO GIVE A RECURRING GIFT IN 2022
Did you know you can donate a little to OpUSA each month, or set up an automatic annual gift? Recurring gifts are easy when you visit give.opusa.org! As you consider your new years resolutions for 2022, we hope you'll consider supporting OpUSA's vital relief and recovery programs all year long. Just select "recurring" at checkout to set it and forget it with a recurring gift.
SET UP A RECURRING GIFT NOW
THANK YOU FOR SUPPORTING OUR GIFT DRIVE!
Thank you to all donors who made our 2021 gift drive a success! With your support, we delivered gifts and gift cards to more than 275 kids and teens in the greater LA area through our partners at Homeless Health Care LA
SEE PHOTOS
Learn more about all of our year-round giving options:
Donate Stocks, Bonds or Real Estate
Donate In-Kind Material Aid
Donate Cash
Become a Corporate Partner

Thank you for helping us spread joy and hope to those most in need, during the holidays and all year long.
All of us here at Operation USA wish you and yours a very happy and healthy holiday season!