The 2013 Social Good Summit: What I Learned
by Mary Dolan
September 30, 2013 — Last week I traveled to New York City to attend the 2013 Social Good Summit on behalf of Operation USA. Over the course of three days I was lucky enough to hear from dozens of inspirational speakers from the nonprofit and tech communities. Set against the backdrop of UN Week, hundreds of attendees came together to converse on the conference theme of #2030NOW — discussing how we can use innovation today to unlock the power of media and social good and build a better world by 2030. The result was powerful, and I left feeling inspired, motivated, and ready to turn ideas into actions.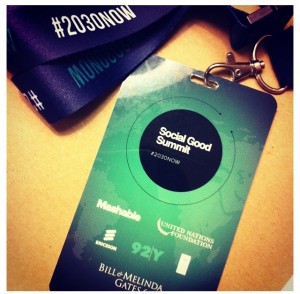 Here are my Top 10 Takeaways from the Social Good Summit:
"Millenials don't just want to read the news anymore. They want to know what they can do about it." -Ian Somerhalder, Actor
The next generation of activists and change makers have grown up on social media and global connectedness — they've witnessed the power that new media has for change, and they're ready to activate and get involved when they're passionate about something. It's up to us to educate and engage them around our causes.
"Partnerships are critical. There's no reason to do this work alone." -Barbara Bush, Global Health Corps
Collaboration was a running theme at the summit. Our combined strengths make us more powerful than we could ever be when working alone.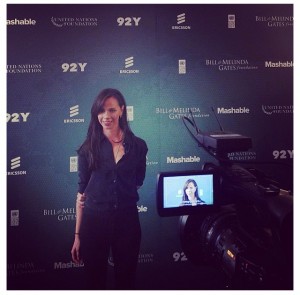 "Sooner or later, if you stay on the path you're going, you're going to get where you're heading." -Steve Howard, IKEA
If no one steps up and takes action to make a difference, no difference will be made. We all have the power to disrupt the status quo and bring about change. Taken out of the context of Mr. Howard's presentation, this sound bite also reminds us to be persistent in working toward our goals.
"We can win this conversation, and winning a conversation can make all the difference." -Al Gore
New media gives us all a voice, and we can all use that voice to drive a collective conversation and be heard on a global scale. Storytelling was another frequently mentioned topic at #2030NOW, and we are fortunate today to have the tools available to us that let our stories be heard. It's up to us to find what works — whether it's humor, tugging at heart strings, or flash mobs (which proved successful for Global Health Corps and sex education, according to Barbara Bush).
(Side note: Check out this great campaign from Matt Damon and Water.org and see successful storytelling at its best.)
"Climate change juices super storms the same way steroids juice ball players." -Joseph Romm, ClimateProgress.org
For those of us in the disaster relief sector, it's important to acknowledge the causes behind the storms and disasters that make our work so necessary. Climate change and it's effect on all of us was another running (and eye-opening) theme of the conference.
"Even our successes are just part of the solution, just a step forward." -Parker Liautaud, Polar Explorer
Parker was awe-inspiring, as were his fellow teenage conference speakers (yes, teenagers!). At 19, Parker has already been on two polar expeditions and a third one is in the works. During an intimate discussion with former VP Al Gore, Parker reminded us that today's youth is the future, and, guess what, they REALLY care about what is happening on the planet!
"We've got to use our time, our dime and our voice in a way that is comfortable for us." -Maggie Fox, The Climate Reality Project
Everyone has resources, and its up to us to use them in a way that jives with our passions and our lifestyle. We should all feel empowered to do what we can with what we have.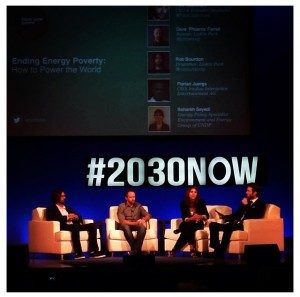 "There are 7 billion of us and we're all sharing one planet. These are not problems of people 'over there' — these are problems of ALL of us." -Bahareh Seyedi, UN
Another eye-opening topic at #2030NOW: sustainable energy. The commodities we take for granted in the US would be truly life changing in communities around the world that still struggle without access to resources like electricity and cell phones.
"It's about enabling & empowering our universe of people … educating them that a donation means something." -Gary Flood, Mastercard
Coca-Cola, Mastercard, Linkin Park, JJ Abrams — what do these household names have in common? They're all harnessing their sizeable networks to bring awareness to the causes they care about. They leverage their spheres of influence to get the public involved, and in 2013 that means harnessing the power of new media to engage fans in unique ways.
"In the struggle between hope and despair, I always come out on the side of hope." -Al Gore
Enough said.
These are only a few of the lessons learned at the 2013 Social Good Summit. The most important takeaway: #2030NOW means it's time to turn our conversations into actions. Innovations in technology are opening new doors for us every day, and we all have the power to shift our thinking and develop innovative solutions for all kinds of problems. Everyone can do something that makes a lasting impact on the world!
Learn more about the Social Good Summit from Mashable here.